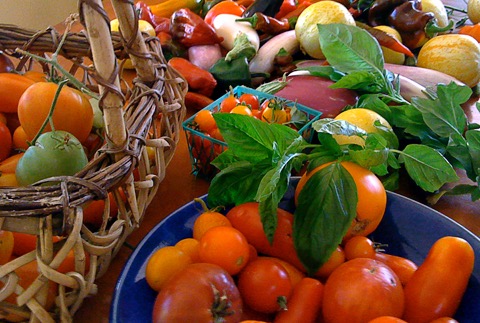 The light changes every morning this time of year. The brilliant hot yellow of summer mellows into gold as the leaves change in the vineyards around us. My garden is in its last throes of production and what's left is all crimson and gold. I just finished stringing the first two ristras of Big Jim New Mexican chilies and already the brilliant red is mellowing into deeper tones as they dry and crinkle…alright, enough with the poetic contemplation. I've been roasting, blanching, drying, smoking everything in sight. No, no, not that kind of smoking. I gave that up back in the hippie days, several lifetimes ago.
My favorite thing lately—meaning this week—is Golden Gazpacho. I've had a huge crop of gigantic gold tomatoes called Orange Strawberry. They're enormous with very few seeds and are meaty as all get-out. In fact, I've had to add fresh tomato juice from some of the other varieties of tomatoes just to make the gazpacho liquid enough. When I made the first batch, I soaked some potato bread with water, thinking I'd need to thicken the soup. I was so wrong, but our dog Pinky was more than willing to eat the soggy bread later.
I made the first batch to bring to my friend Lina's dinner party, so I was quite fastidious about the whole process. I peeled and seeded the tomatoes, peeled and seeded the cucumber, peeled the celery (really), toasted whole cumin seeds and then pounded them in the mortar and pestle with garlic, kosher salt and olive oil. Then I pureed the whole thing, along with some golden peppers, adding salt and Sherry vinegar to balance the flavors. I added some more of the peeled, seeded, diced (PS&D) Orange-Strawberry tomatoes so there would be some texture. Finally, I made a beautiful mince of black Cherokee tomatoes, some brilliant red ones, red and green chilies, and some jalapenos that I tossed with salt, oil and vinegar to use for a garnish. I chilled the whole thing for the day and then drove down to the East Bay.
I just have to say it was beautiful. The crunchy, peppery garnish was the perfect foil for the sweet and the tart of the tomatoes . I made enough gazpacho for the seven of us, but beloved spouse requested a do-over so I made some more last night. This time I didn't take the care I had the first time—no peeling of tomatoes, I was out of our homegrown cukes and celery, used ground cumin—it was still delicious, still looked like a sunset in Kauai, but I must confess that all the details made the first gazpacho the one I'll be talking about next year when I try to remember what I did.
Golden Gazpacho
Ingredients
3 large gold tomatoes, peeled and seeded
1 gold or yellow bell pepper, seeded and cut into large pieces
1 medium cucumber, peeled and seeded
1 stalk celery, peeled
1 large clove garlic
1 T cumin seeds, toasted
Kosher salt
Sherry vinegar
Fresh tomato juice, as needed
Tabasco, optional
Garnish:
Minced red, black, green tomatoes
Minced red and green peppers
Minced jalapeno
Extra-virgin olive oil
Method
Take most of the gold tomato and put into the blender or food processor. Hold aside about ¾ cup and dice. Add bell pepper, cucumber and celery and puree. In a mortar, place toasted cumin seeds, garlic, some kosher salt and a little olive oil. Pound away. When it is well mashed, add to the blender along with the tomato juice, if the mixture seems very thick. Check for seasoning. Don't be afraid of adding salt and vinegar or the gazpacho will be less than stellar. If you like it piquant (I do), add a few shakes of Tabasco Sauce. Once you're happy with the seasoning, add the reserved diced tomatoes and chill for at least four hours.
Toss the garnish with some salt, olive oil and vinegar and refrigerate separately from gazpacho. When you're ready to serve the soup, use some beautiful bowls that will provide a high contrast to the glorious color. Add a generous spoonful of garnish. Wait. Wait. Praise overflows. Buon appetito!