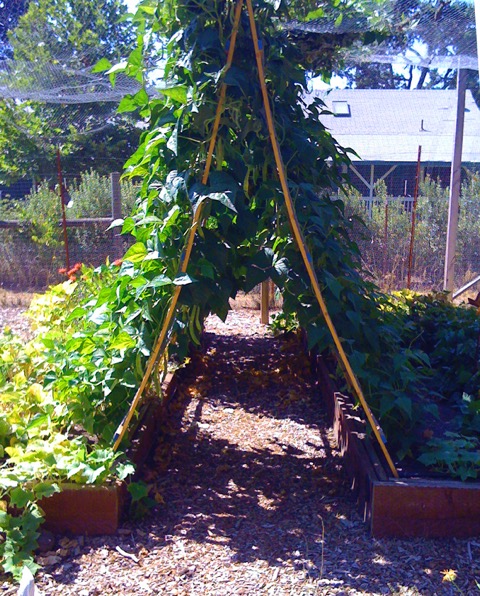 When I start laying out the garden every Spring, I always leave a whole bed for shelling beans. Thanks to Michael's Sunday creations in the garage, we have a very cool trellis for the vines to climb. Early in the season, I can walk through the two sides wearing my big gardening hat, but as the season progresses, I switch to a ball cap, then no hat, and finally I'm kind of scooting along, squatting in my green tunnel.


I hardly ever grow the same beans twice, except for Hidatsa Shield Figure Beans, which are just the prettiest beans I've ever planted. They're white, chunky oblongs with a café au lait side "shield" that has irregular mocha and red spots and lines. According to Seed Savers, the Hidatsa Indians grew them in the Missouri River Valley of North Dakota. I thank them all for keeping this line growing. It's nice and meaty, too.

This year, some of the new (for me) varieties were Papa De Rola Pole Beans, Bolita Bush, Dixie Speckled Butterpea. The Papa beans look like a smaller, less colorful version of the Hidatsa. I haven't tasted them yet, but since it's getting cold and rainy, I should be putting them in the wood-fired oven any day now. I'll report back. The one thing I do know is that they produced more than twice as many beans as the other varieties on the same number of plants.

I cooked with Bolita beans when I lived in Santa Fe. They are a warm coffee color and high in protein. While similar to pinto beans, the flavor and texture is so much better and they tend to be easier on the stomach. The cooking broth gets creamy and delicious. Of course, that's what I experienced when I was in New Mexico. Who knows how they'll taste in my Sonoma County raised beds.

The Dixie Butterpeas were attacked by gophers who broke into the garden for the first time in ten years. Not a single Dixie survived.

Then Autumn arrives and I scramble to pick before the rain comes. I made it by the skin of my teeth. In the end, I wound up with a giant basket of beans to shell and sort, which I did last Sunday when it rained all day. And it took most of the day. Now I have over four pounds of four varieties and I know why they invented machines to do this work. Nevertheless, I haven't put the bags of beans in the cupboard because they are just so great to look at.

I'm teaching a class this weekend and pasta e fagioli in the wfo will definitely be on the menu!

Pasta e Fagioli

Ingredients

8 oz dried beans, borlotti are traditional but use the ones you love
Bay leaf
1 T olive oil
1 onion, medium dice
2 cloves garlic, minced
1 cup carrots, peeled and sliced into half moons
1 T tomato paste
2 T Italian parsley, chopped
1 bunch cavolo nero (also known as dinosaur kale) or Swiss chard
½ pound sausage, pan fried (chicken or pork, whichever you prefer)
½ cup grated Parmigiano Reggiano or Grana Padano
¼ cup Italian parsley, minced
1/2-3/4 cup ditalini (the short, round little pasta guys)

Soak the beans in water overnight. Rinse them with fresh water and put them in a bean pot with the bay leaf. Cover with cool water (about two inches above the level of the beans). Simmer for about an hour in the wfo that's in the range of 400-500 degrees until the beans are tender. Or you can put them in a 200-degree wfo and leave them in overnight. When the beans are cooked and still hot, add salt and pepper to taste.

Sauté the onions and garlic until golden. Add to the cooked beans, along with the carrots, parsley, and tomato paste. Simmer for 10-20 minutes in the wfo. While it's becoming wonderful, bring some water to a boil, salt it generously—it should taste like the ocean—and cook the pasta al dente. Drain and hold.

Remove 1 cup of the bean mixture and purée. Add it back to the pot. If the soup seems too thick, add some chicken broth or pasta water. Add the cabbage/chard and simmer for 10 more minutes. Then add the cooked sausage and cooked pasta and simmer again for another 10 minutes.

Combine the Parmigiano and parsley together. Ladle the soup into bowls and garnish with the Parm-parsley mixture.

A drizzle of extra-virgin olive oil on top is imperative. If you happen to have a loaf of crusty, delicious bread, toast it in the wfo, rub it with some garlic, another drizzle of olive oil and serve it under, over or on the side of the soup.