01/10/12 21:48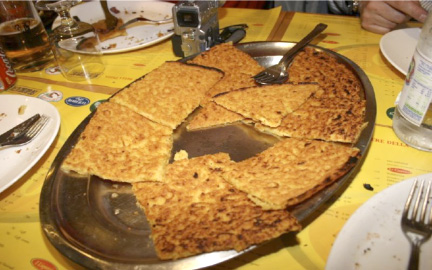 Last year around this time I was writing about rain, rain and the insidious damp. This year the season's been dry as a bone. You'd think that would make cooking in the wfo easy as pizza pie. No wet wood, no damp oven, comfortable weather. But there are a few other things to consider.

Because of La Niña, the Bay Area has been having these beautiful, clear, blue-skied days for weeks. Most people would consider that to be good news, especially if you happen to be living in frigid, snowy parts of the country. Maybe you're even a little envious of our sunny, temperate clime. Just think--no blizzards, no icy roads.

But actually, because there's been little wind or rain, the air quality has been poor, so there have been Spare the Air days most of December, including Christmas and New Year's. That's bad news since it means no wood burning inside or outside unless it's your only source of heat. In fact, it is illegal to use wood-burning devices and can result in fines. If you're in Northern California, you can sign up for Spare the Air Alerts at
www.sparetheair.org
. You can get them via email, text, or their mobile app. For those of you living in other places, you can sign up for alerts in your hometown at
www.enviroflash.info/signup.cfm.

As I tell my students, burn only clean, seasoned hardwoods in your oven. Wet, green or damp wood releases more particulates into the air. The oven will take longer to reach temperature and you'll have to burn more wood to get the hot fire you want. Whatever you cook may taste overly smoky, will take longer to cook and just won't taste as fabulous.

We've all become more conscious of where our food comes from. How about our fuel? I'm lucky enough to still have a couple of years worth of oak and black walnut from our little acre and that of my neighbor. Most of that came from trees or limbs that fell on their own or that PG&E made us take down. To compensate for all the wood we've burned in the past and what we'll burn in the near future, we've planted about 30 trees. So we've been carbon sensitive and we have mountains of fruit in summer and fall. In fact, we're still eating apples from this harvest and jams and preserves from 2010. Being responsible pays off, I'd say. Plant a tree!

Finally, one last thing. When you do fire up the much-loved wfo, try to maximize the heat you build in it, especially if you've been making pizzas at around 850+ degrees. As the oven begins to cool, it's a great opportunity to cook other things. There's time to roast or sear meats and poultry when the oven drops to about 500-600 degrees. As it cools further, there's time for braising dishes like stews or pot roast. A little cooler—around 350-400 degrees, you can slide in vegetables for roasting, a pan of cornbread, bread pudding or a fruit crostata. Finally, when the oven gets down to about 250-300 degrees, you can cook those low and slow dishes like ribs or baked beans.

You can cook meals or parts of meals to last you for days. It does require some advance planning, shopping and prep, but that's just part of the fun. Here's a recipe that's incredibly easy to put together as the oven cools down.





Farinata


Farinata is a Ligurian dish made from garbanzo bean flour. Similar dishes are made in other areas of Italy, France, Greece and around the Mediterranean. It is also known as cecina, (ceci is the Italian word for chick peas), fainé genovese in Sardinia, socca in France, and karantita in Turkey and Algeria. In some places it is eaten out of hand, as a snack. Other places put it between bread or even on top of a pizza. It is thin, crispy and crunchy—more addictive than potato chips, even to me, a potato chip addict!


Ingredients:

1 cup garbanzo bean flour
3 cups water
¼ cup olive oil
salt, to taste

Method:

Slowly whisk water into flour to make a smooth mixture. Allow to rest, covered, for at least 45 minutes and up to an overnight.

Whisk in two-thirds of the olive oil and salt to taste. Be generous with the salt. If you'd like, this is the time to add some rosemary, chopped parsley or borage flowers.

Heat a large cast-iron skillet or paella pan (my personal favorite) in a 500-degree oven until it is hot. Add the other third of the olive oil to the pan and return it to the oven. Once the oil is heated, pour in some of the farinata mix. It should only be about ¼-inch thick and should bubble up and sizzle as it hits the pan. Turn the pan occasionally to ensure all sides brown evenly. Be patient—the farinata should be crisp, even as it approaches the center of the pan. This can take up to 20 minutes.


The farinata should be crisp around the edges and golden brown all over. It is traditionally served in wedges as an appetizer, sometimes spread with gorgonzola or another strong cheese.